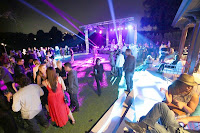 The old Kathryn Grayson Estate on La Mesa Drive overlooking Riviera Country Club was sold in 2010 to a high end designer for $7.7 Million and it has become quite the rave lately…literally. After being extensively remodeled, the owners have tried to think outside the box and have large parties attracting the Los Angeles elite with the goal of trying to get someone drunk enough or high enough to overpay to the tune of $20-25 Million Dollars for the home. The parties have been happening on a frequent basis attracting in upwards of 400 people and driving neighbors on the normally quiet street nuts. Reports of naked people sleeping in cars and open drug use on the street have been circulating around town.
Tonight at the Santa Monica City Council meeting, an emergency ordinance that prohibits homeowners from hosting more than 150 people at one time for the purposes of selling a home. Please see the article below for more detailed information. The attorney representing the owners is threatening a lawsuit against the city if the ordinance is passed…I just have one question: Do the owners realize who the neighbors are that they are driving crazy? Growing up in the neighborhood my answer would be they are not the type of people you want to make enemies with…you may win a small battle but in the long run you will lose the war…in a big way.
UPDATE: The Santa Monica City Council had a split vote on the emergency ordinance and will be revisiting this situation at the next meeting.
Article: North Santa Monica Party House