The Palisades had 27 single family sales in the month of September which beat out last year's sales for the month by one according to MLS statistics (this does not include off-market activity). Of the 27 sales, 37% (10) sold for above the original asking price. The median sale price was $2.590M and the average days on market was 59 with the sale price coming in at 99.68% of the list price. Let's take a quick look at a few sales:

Craziest Sale of the Month- 646 Las Lomas- Tear-down on a 8,698 sq. ft. lot: Listed at $1,375M and sold for $375K over asking at $1.750M. The minute this extra-large lot hit the market it created quite a stir with builders and principles looking to build a dream home. An out of area realtor represented the seller and the original list price is evidence of that. The property had over 20 offers with the listing agent ending up representing both sides and angering quite a few local agents and principles. The accepted offer is rumored to have no contingencies and it closed within three weeks. The buyer was probably a builder/contractor with institutional money behind them. The Palisades has been a hotbed of builder activity the past 18 months.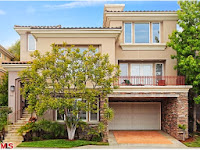 Highlands isn't just hot from a temperature standpoint- 16617 Calle Brittany, a 5 bed/5 bath, 4,583 sq. ft.on a 7,678 sq. ft. lot had a list price of $1.875M and sold for $1.950M in multiple offers. The house went into escrow in late June and had what appears to be a three month escrow on top of of a leaseback thru October 31st. The Mediterranean style home features a cook's kitchen, 4 car garage, ocean/mountain vistas and a lush backyard.
17211 Avenida De La Herradura- This 4 bed/3 bath, 3,083 sq. ft. home on a 7,921 sq. ft. lot situated at the end of a cul de sac created quite a buzz when it hit the market with a $1.585M list price. The sophisticated and upgraded family home made its debut on a Tuesday broker caravan and immediately drew over a half a dozen offers over the list price and it didn't even make it to the first Sunday public open house. The final sale price was $1.775M, almost $200K over the original asking price. The house was bought in 2010 for $1.450M and the seller put in another 100K+ of additional upgrades. We represented the buyer.
The odyssey of 1239 Las Pulgas – At first glance you would think people would want to live here for a long time. Completely remodeled down to the studs in 2007, this 4 bed/3.5 bath, 3,600 sq. ft. contemporary home with panoramic views goes through homeowners like most celebrities go through marriages. From a realtor's perspective it provides the perfect example that sale prices in the area have surpassed those in 2007. The house was sold in 2008 for $3.2M and then sold in 2012 for $2.650M. Eight months later it was back on the market and sold in February of this year for $3.1M before being sold again this September for $3.315M, $165K over the asking price. Despite the rapid turnover the home is still attracting buyers at higher prices so the inspections are checking out well.