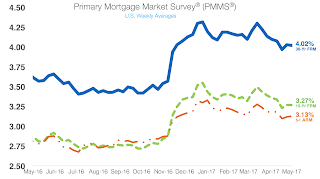 click to enlarge
Mortgage rates ticked up slightly, but hovered near the 4% mark after the weak gross domestic product increase and the Federal Open Market Committee's decision not to raise rates.
The 30-year fixed rate mortgage edged down slightly to 4.02% for the week ending May 4, 2017. This is down from last week's4.03% but still up from last year's 3.61%.
The 15-year FRM held steady at 3.27%, an increase from last year's 2.86%.
The five-year Treasury-indexed hybrid adjustable-rate mortgage increased slightly, hitting 3.13%. This is up from last week's 3.12%, but down from 2.8% last year.
Source: Housing Wire