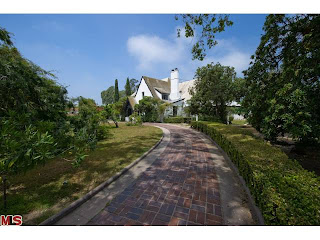 2009 La Mesa Drive, widely known as The Kathryn Grayson Estate finally hit the market this week for $8.995M. The 52,170 square foot lot (two lots combined into one), is one of the largest on one of LA's most desirable streets overlooking Riviera Country Club.
The English Tudor home built in 1926 is most likely protected by the Santa Monica Historical Conservancy which means whoever buys the home will have to keep the original theme of the home in terms of curb appeal.
Old world craftsmanship inhabits every inch of the home that was famous for housing many Hollywood A-list parties, but it is now extremely outdated and with all due respect to Kathryn Grayson, the age and style would make for an unbelievable haunted house. Add to that, menacing guard dogs that used to patrol the grounds and frighten us as kids when walking down La Mesa at night and you really would have the best haunted house ever…sorry to digress…
The lot size and location will be a draw to the extremely wealthy. The question will be whether you can add significant square footage to the 5,381 sq. ft. home and improve the lay-out of the lot for better land use.