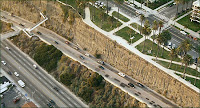 The Santa Monica City Council voted in July to move forward with a construction project that will replace the aging California Incline Bridge connecting Pacific Coast Highway and Ocean Avenue. Construction is expected to start sometime in the fall or winter of 2013!

A major access point into downtown Santa Monica, it is a major artery into the heart of the city.
Under the proposed project, the existing structure will be replaced by a 750-ft.-long by 52-ft.-wide concrete bridge and will require a 12- to 18-month closure of the popular connecting byway.
City staffers are asking that construction take place from 7 a.m. to 10 p.m. Monday through Friday and 7 a.m. to 9 p.m. Saturdays. They estimate the extended hours would expedite construction by about 25 percent above the option of working during standard city construction hours.

Santa Monica Mayor Richard Bloom promised an open dialog with residents, who have aired concerns that construction will bring traffic neighboring areas to a complete standstill.
Articles to read on the topic:
Major redo of California Incline Approved – Santa Monica Patch
Palisades Post Article on Impact of California Incline Construction
*Sources: Santa Monica Patch and Palisades Post