Interest rates increased once again in anticipation that the Federal Reserve would increase interest rates Wednesday. "As expected, the FOMC announced its first rate hike of 2017 and hinted at additional increases throughout the remainder of the year," Freddie Mac Chief Economist Sean Becketti said.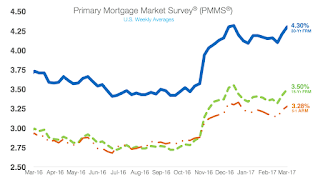 The 30-year fixed-rate mortgage increased to 4.3% for the week ending March 16, 2017. This is up nine basis points from last week's 4.21% and up from 3.73% last year.
The 15-year FRM increased to 3.5%, up eight basis points from 3.42% last week and from 2.99% last year.
The five-year Treasury-indexed hybrid adjustable-rate mortgage increased to 3.28%, up from last week's 3.23% and last year's 2.93%.
"Increasing inflation, continued gains in the labor market and the Fed's intentions for further rate increases—all three will keep pushing mortgage rates up this year," Becketti said.
Source: Housing Wire