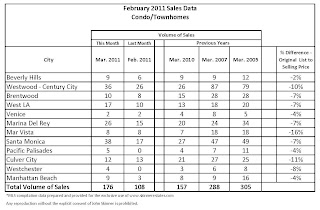 Overall, we saw a solid increase in sales volume over February, which was expected. However, the increase in sales of
62%
over last month was unexpected and the 12% growth in sales over March 2010 continues to show the market is growing steadily out of the Great Recession. Though the numbers look good, we are still off nearly
63%
from sales volume 2007 and 73% from the Wild West days of 2005.
In looking at particular areas, Santa Monica had a great month of sales with 38 compared to a dismal February of 17. Santa Monica is up 40% in sales volume compared to March 2010. Most of the seller's did a good job of pricing the property with the difference in Original List Price to Sale Price at -7% and the difference in List Price to Sale price being around -5%.
Marina Del Rey had a phenomenal month with increasing sales over February by 73% and having a better month than March 2007 which is very rare. Some of this can be attributed to quite a few short sales going through in some of the mid 2005 constructed towers that were flooded with liar loans.
Both Santa Monica and Marina Del Rey are being aided by an influx of buyers thanks to the multitude of tech companies opening offices in the area. It is still considered a buyer's market but the leverage buyer's have enjoyed over the past few years is receding somewhat. The good news for sellers is that if they price the unit at or around market value they should be able to sell quickly with good terms.
A look at a few individual sales in Santa Monica: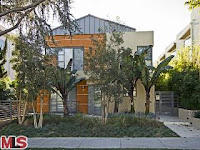 914 14th Street #101- Built in 2008 along with 4 other units, this 2+2.5, 1,580 sq. ft. unit sold for above asking at $1.150M and was on the market for just 11 days. The asking price was $1.125M. This is the fourth unit to sell in the building with two others selling in 2010 for $687 and $677 per sq. ft. This was the front unit and it sold for $727.85 a square foot. This unit debut on the market for $1.299M in 2008 before being rented out.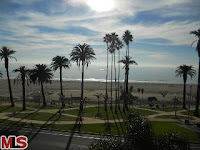 1033 Ocean Ave.#401- After being on the market for 304 days, this luxurious 2+2, 1,396 sq. ft. unit with amazing ocean views finally sold for $1.550M. It was originally listed at $1.850M and went for $1,110 per sq. ft.