The repair and repaving project of the Moomat Ahiko bridge (connects Ocean Blvd. with PCH North near the Santa Monica pier) is underway as city official expect that it will serve as one of the primary detour routes during the construction of the California Incline Bridge project set to begin in early 2015. That's right, the main artery providing north and southbound access to PCH from the heart of Santa Monica will be closed for 12-18 months while the incline is properly retrofitted.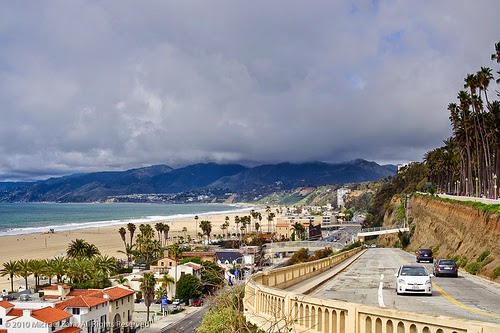 The incline rests on unstable soil and a significant earthquake would likely decimate the incline. The project is expected to take 12-18 months. Construction hours will not be around the clock to maintain the sanity of those living on PCH and Ocean Avenue. However, the hours will be extended to 7AM thru 10PM Monday through Friday and 7AM to 9PM on Saturday. The extended hours will lead to the project being completed 25% faster than under standard construction hours. A closure of one southbound lane on PCH will be needed during construction.
Between 7am and 10am- they will provide two northbound lanes and three southbound lanes and left turns to coastal properties will be prohibited.
Between 10am-4pm, two northbound and southbound lanes will be available and left turn access will be available.
Between 4pm-7pm, they will provide three northbound lanes, two southbound lanes and left turns will be prohibited.
Between 9pm-5am, two southbound lanes will be closed.
An average of 20,000 cars use the incline daily. To avoid the construction, people will be asked to use Chautauqua in Santa Monica Canyon, and Sunset Blvd. in the Palisades with Moomat Ahiko and Lincoln Blvd. for south Santa Monica.
I can't imagine what beach traffic will be like next summer when people escape the heat from the mid-city and visit beaches near the Santa Monica and Venice piers. From a real estate perspective, this will not be welcome in Malibu and to a lesser extent the Palisades.